The United Kingdom(UK) that comprises England, Wales, Scotland and Northern Ireland has always been one of the most popular destination countries for an Indian Traveller. With so many wonderful sights and historical places to visit, a trip to UK can never have a dull moment in it. The Indian visitors have been growing every significantly over the years and in 2017 there were 5,62,000 Indian tourists who visited UK according to the data published by the Visit Britain website. This is a massive 35% growth over 2016 which clearly illustrates how popular UK is getting as a favoured tourist destination for the Indian traveller.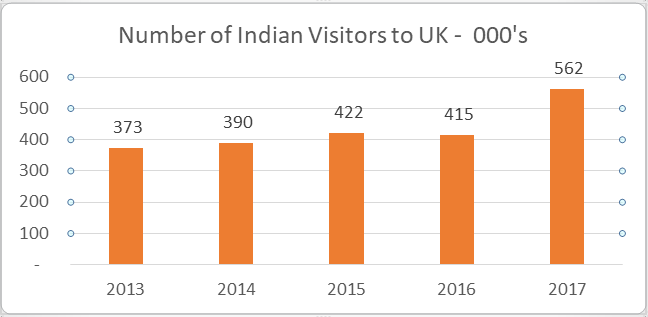 There are some other interesting data shared on the Indian traveller by the website in its study, which is tabled below.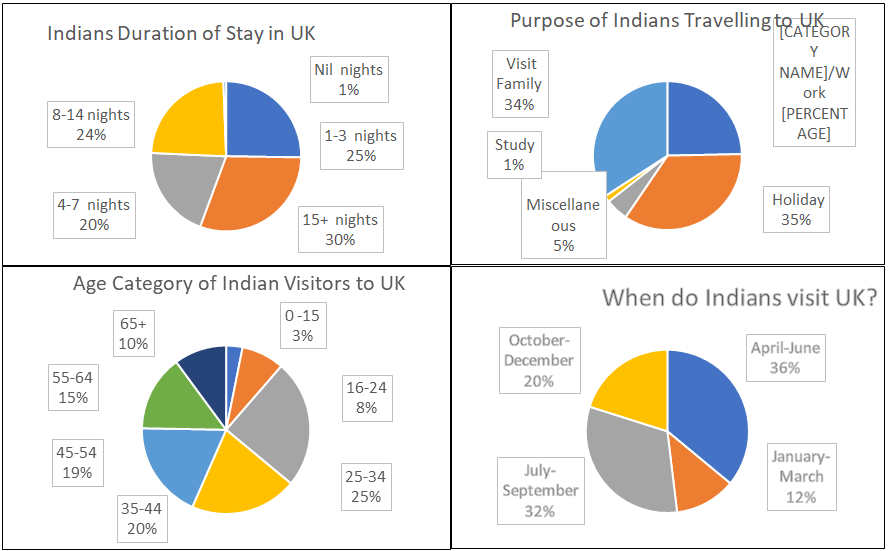 Just some key takeaways include:
Almost one third of the visitors stay in UK for more than 15 days and this is likely to be between 69-90 days.
While 35% travel to UK on holiday as tourists, 34% are also there to visit family and friends
Almost 60% of the Indian travellers are between the ages of 25-54 years old. 65% are male and 35% female travellers.
The most preferred time of travel is the April-June quarter given the Indian holiday season and also the fact that it will be Spring/Summer in the UK and the temperatures will be moderate.
It is important to note that eventhough the cost of medical treatment in the UK is not as costly as it is in the US, there is a significant difference when compared to India. According to Indian Medical Tourism data, tabled below, it is clearly demonstrated that the Indian traveller must insure themselves with travel health insurance for UK to ensure they are not placed in any financial difficulties when hit with an unexpected serious illness/hospitalisation.
Which is the best UK travel insurance plan from India?
There are many insurance plan options that a traveller can choose from for their trip to UK. The first and most important fact to be considered is the cost of healthcare in UK. After USA, the UK is one of the countries where the healthcare costs are relatively very high for an Indian traveller. This is demonstrated in the table below.
Procedure

UK ($) Approx

India ($) Approx

India ₹ INR

Open Heart Surgery /Bypass Surgery
$24,000
$8,000
5,60,000
Facial Surgery and Skull base
$13,000
$4,500
3,15,000
Neurosurgery with Hypothermia
$21,000
$6,800
4,76,000
Complex spine surgery with implants
$13,000
$4,600
3,22,000
Hip Replacement
$13,000
$4,500
3,15,000
Simple Spine Surgery
$6500
$2,300
1,61,000
Simple Brain Tumor:
Biopsy
$4,300
$1,200
84,000
Surgery
$10,000
$4,600
3,22,000
This makes it critical and highly recommended that all travellers travel to UK with an insurance plan at all costs. Given the current exchange rates of the GBP (£) against INR (₹), it is advisable that the insured has a sum insured of atleast $250,000 to $500,000.
The Indian insurers today offer comprehensive travel medical insurance UK plans. UK visitor insurance coverage include Accident & Sickness, Dental Cover, Medical Evacuation and Person Accident among the Medical coverages and Loss of Baggage/Passport, Trip Cancellation/Curtailment among the Non Medical covers. These are offered at very competitive premiums as well when compared to purchasing an inbound insurance policy from a UK based insurance company.
Illustration : Premium for a 35/61 year old person travelling to UK for 60 days:
| | | | | |
| --- | --- | --- | --- | --- |
| Insurance Plan | Sum Insured for Accident & Sickness in USD $ | Sum Insured for Accident & Sickness in INR | Age 35 years - Premium payable in INR | Age 61 years - Premium payable in INR ₹ |
| Plan 1 | $250,000 | Rs. 1,75,00,000 | 2,514 | 6,665 |
| Plan 2 | $500,000 | Rs. 3,50,00,000 | 3,380 | 7,999 |
| Plan 3 | $500,000 | Rs. 3,50,00,000 | 6,221 | 10,404 |
Don't forget to pack your insurance policy the next time you travel.
Popular destinations in UK
London